Current Projects : Instructions and project planning progression

LAND OFF SCHOOL LANE
Roxton, Bedfordshire
Manor Oak Homes have now obtained resolution to grant outline planning application from Bedford Borough Council for a residential development of up to 50 new homes. More information will be made available in due course.
Our Vision:
Manor Oak Homes are pleased to announce we are currently promoting a residential-led scheme on land north of School Lane, Roxton. The site benefits from an allocation in the Bedford Borough Council Local Plan 2030. The Scheme we are promoting comprises residential development of up to 50 new homes, including 30% affordable homes and public open space.
We have been engaging with Roxton Parish Council, and Bedford Borough Council to inform our proposals. Once we have reviewed and considered resident's comments on our proposals, we will look to submit an outline application in the Autumn 2020.
Public Consultation:
This is an online public consultation for a proposed landscape-led residential development on land to the north of School Lane, Roxton, comprising up to 50 residential dwellings which will include 30% affordable homes and public open space. This website has been set up so that members of the public can comment on the scheme before Manor Oak Homes submit an outline planning application to Bedford Borough Council. Your feedback is important to us and will be reviewed and considered carefully by the design team prior to the submission of the outline planning application.
Exhibition Boards containing information about our proposals are available here
Formal preapplication consultation took part between the 5th October and the 26th October 2020. All comments will be reviewed by the project team and collated into a Statement of Community Involvement, which will form a part of any subsequent planning application submitted to Bedford Borough Council.
Data Protection: your contact details and comments will not be passed on to any other private organisation and will only be used expressly in connection with this consultation.
Formal Public Consultation has now closed

Our Proposals:
The site is considered well-related to the built form and within a good walking distance of key facilities and services within Roxton such as the primary school, village hall, public house, post office and bus stop. Our Proposals have been informed by pre-application discussions with Bedford Borough Council, and Roxton Parish Council, as well as detailed site investigations. These investigations include the following:
Landscape Assessment
Archaeological Assessment
Preliminary Ecology Appraisal
Arboriculture Assessment
Transport and Access Investigations
Flood Risk and Drainage Assessment
Heritage Impact Assessment
Site context/village Character Appraisal
Noise Assessment
Topographical Survey
The conclusions of these key investigations are used to inform a constraints and opportunities plan, which is used by the architect in conjunction with information provided by Bedford Borough Council to draw up a constraints-led residential scheme. This methodology ensures that any environmental impacts are mitigated, and that the scheme responds positively to its environment. It is critical that the scheme makes the best use of the land to provide housing that is suitable for the location and meets local needs, whilst ensuring that the local environment is protected and enhanced where possible.
Whilst we undertake all the recommended investigations using qualified specialists at an early stage of the design process, we do not profess to know everything about the site and its surroundings, which is why Public Consultation and stakeholder engagement is critical to the design process. We are therefore keen to hear your views, concerns and ideas on matters such as Open Space, Housing Mix and Affordable Home Provision.
Next Steps:
Following the public consultation exercise, Manor Oak Homes have now reviewed all the comments received which have been summarised in the Statement of Community Involvement. We have now submmited an outline planning application to Bedford Borough Council for up to 50 new homes.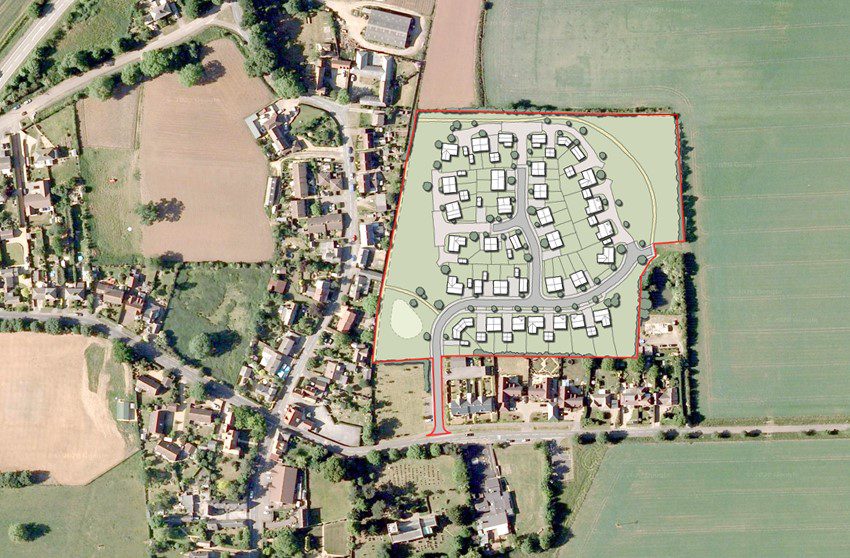 School Lane, Roxton Exhibition Boards in PDF
We have published a PDF of the public exhibition boards for your viewing, click to download.
You will need Adobe Acrobat Reader to view this download, if this isn't installed on your device, simply click on the 'Get Acrobat', prior to downloading.

Planning
As part of developing our proposals, we would like feedback from local people about what this future environment should look like and how it will best fit in with your community and your surrounding areas.
We would like to hear your views on areas such as:
– Open space
– Broad mix of homes
– Road improvements
– Affordable homes
Formal pre-application consultation has now closed.
FEEDBACK : Land off School Lane, Roxton
Use our online form, left, or alternatively email:
info@arplanning.co.uk
You can write to us at:
Freepost RUBL–ELJA–EEBK,
Armstrong Rigg Planning,
The Exchange 60.01,
Colworth Park,
Sharnbrook,
Bedford,
MK44 1LZ
Comments must be received by 26th October 2020.
Data Protection: your contact details and comments will not be passed on to any other private organisation and will only be used expressly in connection with this consultation.
Current Projects : Locations
Manor Oak Homes is a multi-disciplined company that specialises in promotional agreements and option agreements for strategic land opportunities co-founded by John Briggs and William Main in 2010.
We beleive in working on an open-book basis, building a strong relationship with clients, consultants, political bodies and industry contacts alike. We insist on working in a spirit of good faith, ensuring that we work in an environment of transparency and trust. We do not rely on a board, or the excuse of a board not to get things done, and will always pick up the phone at the first opportunity.
PROACTIVE – PROFESSIONAL – PERSONAL
This website, drawings and reports are the copyright of Manor Oak Homes and their Consultants and shall not be reproduced without their permission. Ordnance Survey map information reproduced with permission of HMSO Crown Copyright reserved. Manor Oak Homes will take reasonable measures/actions to ensure the website is updated regularly, but will not accept any liability. Viewers of the website should also check with the planning department of the Council.