Current Projects : Instructions and project planning progression

LAND OFF STRATFORD ROAD, 
Deanshanger, Northamptonshire
Welcome to Manor Oak Homes' public consultation website for our proposed new development at Land off Stratford road, Deanshanger in Northamptonshire.
Our Vision: Manor Oak Homes are pleased to announce we will shortly be submitting a planning application for a development of up to 67 quality new houses and bungalows including 50% affordable housing and public open space.
We welcome your views on our proposals
The Proposed Development
The proposed development will seek to deliver an attractively designed new residential scheme of circa 67 new homes comprising a range of house types, sizes and tenures aimed at meeting the needs of all households in the village. There is a particular need for affordable housing which we will address by providing 50% of the houses as either Shared Ownership, Social Rent or First Homes.
The Concept Masterplan has been sensitively designed to respect the surrounding settings and provide a landscape led approach to the development including:
Access is taken off Stratford Road. Design of the access was adviced by a tree survey to ensure that the location is the most appropriate location with regard to the existing character of Stratford Road.
67 units in total for the scheme with lower density housing to countryside edges.
50% affordable housing in accordance with Policy H2 within West Northamptonshire JCS which covers South Northamptonshire rural areas.
A landscape buffer, incorporating structure planting and informal open space will be developed along the southern boundary, setting development back from the A422 corridor and ensuring a high quality environment in terms of amenity for new residents within the southern parcel.
The north eastern boundaries of the parcels will incorporate a landscaped buffer to ensure a defensible edge to the settlement is achieved and separation between Deanshanger and Old Stratford is maintained.
The eastern edge to the field is broken up with a series of "green fingers" of landscape space that extend into the scheme and soften the countryside edge and avoid a continuous built frontage.
The existing field boundary planting will be maintained and reinforced as part of the site-wide landscape strategy to ensure an appropriate landscape setting for the development is achieved.
Linear open space to the western boundary including wildflower meadow habitat area to the north-west
Sustainable Drainage Systems (SuDS) located to southern boundary.
Public Exhibition
Stakeholder engagement is a key part of the development process. We are interested to hear residents' views, ideas and concerns at our forthcoming public consultation event.
                                    Venue:                        Deanshanger Memorial Community Centre
                                    Date:                           Friday 28th  January 2022
                                    Opening Times:        4pm to 7pm
Members of the public are cordially invited to attend the event to view and comment on our proposals. Members of the Manor Oak Homes team will be on hand to answer questions.
Alongside the letter informing residents near the site and public exhibition being held on the 28th January 2022, we have set up this dedicated consultation page so that residents have the opportunity to ask questions, or to comment on the proposals prior to Manor Oak Homes submitting a planning application.
A comments form can be found below alongside a pdf copy of the public exhibition boards. Please submit any comments you may have by Friday 11th February 2022.
Data Protection: all contact details and comments will only be used expressly in connection with this consultation.
Next Steps
This consultation exercise precedes the submission of an outline planning application.
Once the application has been submitted, there will be an opportunity to formally respond to the application on the West Northamptonshire District Council website. Any response you make will be made available to Manor Oak Homes accompanied by Officer advice explaining how we should address any issues raised.
Pre-Application Consultation closes 11th February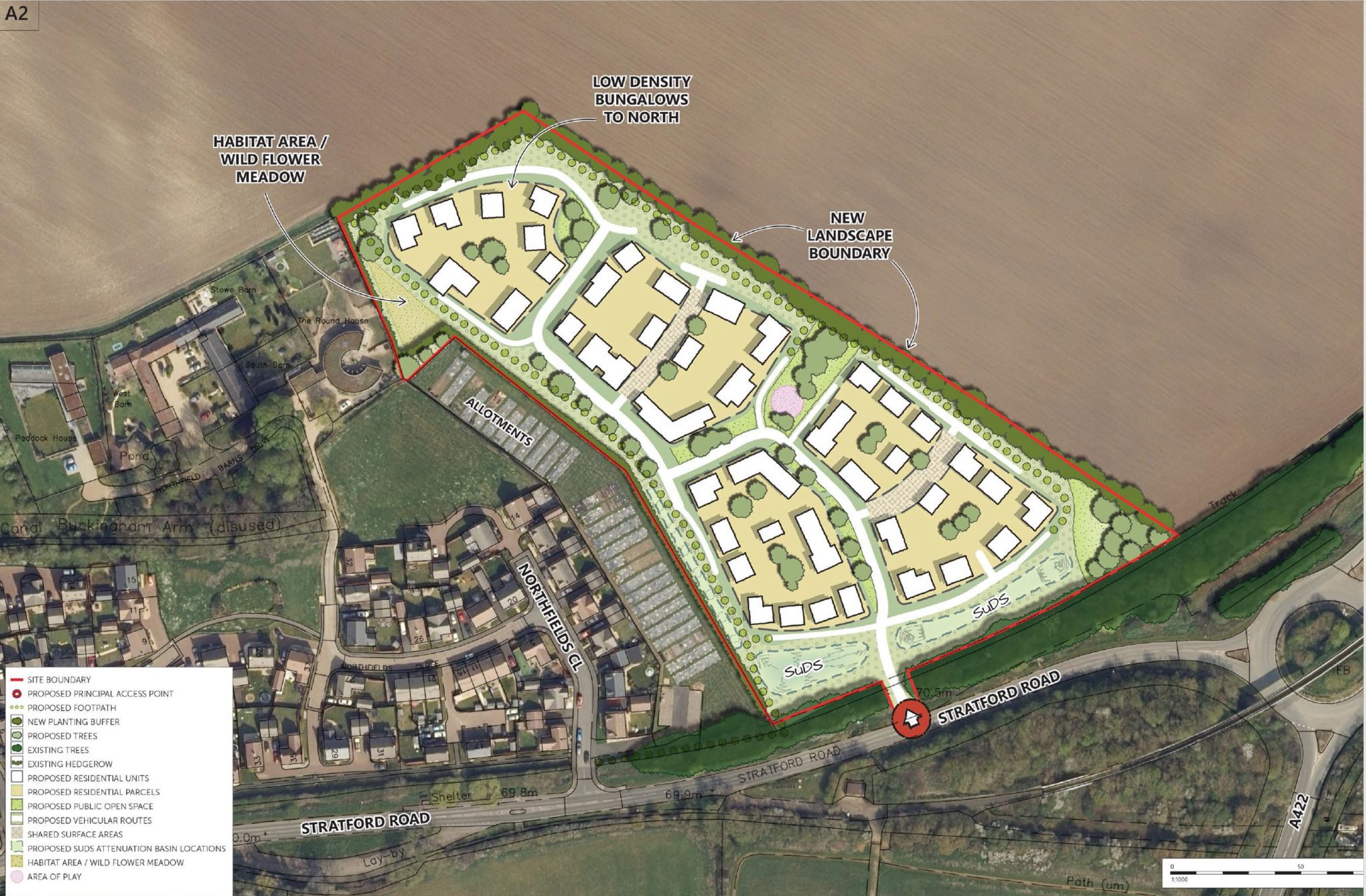 We welcome your views on our proposals:
As part of developing our proposals, we would like feedback from local people about what this future environment should look like and how it will best fit in with your community and your surrounding areas.
We would like to hear your views on areas such as:
– Public open space
– Broad mix of homes
– Access and connectivity
– Affordable homes 
We welcome your views on our Proposals
FEEDBACK : Land off Stratford Road, Deanshanger
Use our online form, left, or alternatively email: info@arplanning.co.uk
You can write to us at:
Armstrong Rigg Planning,
The Exchange,
Colworth Science Park,
Sharnbrook,
Bedford,
MK44 1LZ
Data Protection: your contact details and comments will only be used expressly in connection with this consultation.
Current Projects : Locations
Manor Oak Homes is a multi-disciplined company that specialises in promotional agreements and option agreements for strategic land opportunities co-founded by John Briggs and William Main in 2010.
We beleive in working on an open-book basis, building a strong relationship with clients, consultants, political bodies and industry contacts alike. We insist on working in a spirit of good faith, ensuring that we work in an environment of transparency and trust. We do not rely on a board, or the excuse of a board not to get things done, and will always pick up the phone at the first opportunity.
MANOR OAK HOMES: PROFESSIONAL, PROACTIVE, PERSONAL
This website, drawings and reports are the copyright of Manor Oak Homes and their Consultants and shall not be reproduced without their permission. Ordnance Survey map information reproduced with permission of HMSO Crown Copyright reserved. Manor Oak Homes will take reasonable measures/actions to ensure the website is updated regularly, but will not accept any liability. Viewers of the website should also check with the planning department of the Council.